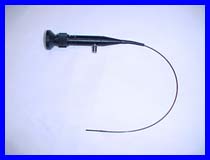 1800FS066 Flexible Endoscope Microborescope
(.066 in. -- 1.68 mm)





The 1800FS 066 was designed to be a portable, rugged inspection device capable of producing a high resolution image of critical components through access holes as small as 1.7 mm. With intense fiber optic illumination and a crisp image delivered by high resolution quartz optical fiber, this microborescope is able to handle a host of inspection requirements where there is LIMITED access.

Standard Features:
High Resolution Fiber Imaging Bundle
Internal Fiber Optic Illumination
Portable Battery Handle -3V-
Custom Foam Lined Carrying Case
Durable Steel and Aluminum Construction
Options:
150 Watt Illuminator (1800LS)
Flexible Endoscope Light Guide
35 mm/Digital Still Camera Adapter
"C" Mount Video Camera Adapter
"C" Mount Video Camera and Monitor
Specifications:


Shaft Outside Diameter:
.066 in. -- (1.68 mm)

Shaft Construction:
Extruded urethane

Shaft Lengths:
6.0 in. -- (15.2 cm) STD
12.0 in. -- (30.5 cm) STD

Field of View:
50 degrees standard
70 degrees available
Depth of Field:
.2 in. to 3.0 in.
(5 mm to 75 mm)

Eyepiece:
B-Style, Diopter Adjustable
and Photo Capability

Direction of View:
Forward Viewing Standard

Light Guide Connector:
ACMI
Click on Price to order > No Discounts on New Equipment! <
$1,975.00 6"
$1,475.0012"