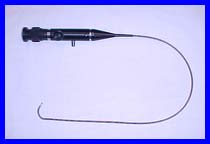 1800FS140 Flexible Endoscope Fiberscope
(.140 in. -- 3.5 mm)





The 1800FS 140 is a Flexible Endoscope fiberscope that delivers high-resolution images of remote, difficult to reach areas. It can be used in many preventative maintenance inspection programs because of its ability to go around bends and corners, which would reduce or eliminate the need for costly equipment teardowns.

Standard Features:
High Resolution Fiber Imaging Bundle
Portable Battery Handle -3V-
Custom Foam Lined Carrying Case
Options:
150 Watt Illuminator (1800LS)
Flexible Endoscope Light Guide
35 mm/Digital Still Camera Adapter
"C" Mount Video Camera Adapter
"C" Mount Video Camera and Monitor
Right Angle Viewing Adapter
Specifications:


Shaft Outside Diameter:
.140 in. -- (3.5 mm)

Bend Radius:
1.5 in. -- (38 mm)

Shaft Construction:
Braided Stainless Steel

Shaft Lengths:
24 in. -- (61 cm) STD
36 in. -- (91 cm) STD
Custom Lengths Available
2-way Articulation:
+/- 100 Degrees
Field of View:
50 degrees standard
70 degrees available

Depth of Field:
.2 in. to 3.0 in.
(5 mm to 75 mm)

Eyepiece:
B-Style, Diopter Adjustable
and Photo Capability

Direction of View:
Forward Viewing Standard
Right Angle Viewing with Adapter

Click on Price to order > No Discounts on New Equipment! <
Only $3,675.00 24"
$3,975.00 36" +S&H