With the 1800FS 75 mining scope, structural data of roof rock can be obtained utilizing standard roof bolt holds. The high resolution quartz imaging fiber, combined with intense internal fiberoptic illumination provides a crisp clear view of roof rock conditions allowing for the identification of any faults, fractures or other dangerous conditions.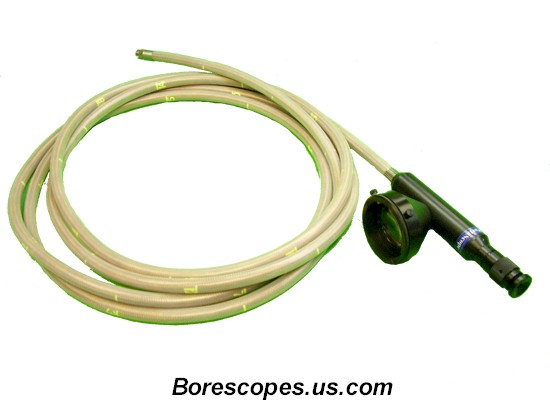 With its Flexible Endoscope , .75 inch diameter, the FS 75 will follow standard bolt holds even if they are not perfectly true, unlike rigid borescopes.

The convenience of connecting to most standard miners' lamps, makes the FS 75 a heavy duty, completely portable inspection device capable of transmitting vital information quickly and efficiently.

Standard Features:
High resolution quartz image fiber
Intense fiberoptic illumination, conveniently attaches to most standard miners' lamp for total portability
Right angle attachment for 90º viewing
Durable construction
Heavy duty custom fitted foam lined carrying case


Specifications:


Outside Diameter:
75 in. -- (19) mm

Flexible Endoscope Lengths:
10 ft -- (3 m)
15 ft -- (4.6m)
20 ft -- (6.1 m)

Flexible Endoscope Length
Construction:
Flexible Endoscope , braided stainless steel
with tough, abrasion resistant covering
with distance markers.

Minimum Bend
Radius:
5 in. -- (12.7) cm

Field of View:
50 degrees

Depth of Field:
.5 in. to 1.25 in.
(12.7 mm to 31.7 mm)

Illumination:
Internal fiber optic illumination
connects to standard MSA or
wheat miners' lamp

Click on Price to order > No Discounts on New Equipment! <
Only $5,830.00 101"
$6,325.00 10'
$8,475.00 15'
$10,650.00 20'
+S&H