This remarkable device captures and stores digital images on convenient USB flash drives. It works with existing video endoscopy borescope processors, cameras, etc. There's no need to replace your existing equipment - simply plug in the USB100 and you're instantly capturing digital images!

Features & Benefits
Easy installation. Just plug it in and capture.
Little or no training needed. Simply push a button to capture the current image on your monitor ? it is saved as a still image on a USB flash drive.
Extremely low cost. Revolutionary technology allows the USB100 to be priced at a fraction of the cost of other capture equipment.
Small, portable, and rugged. Compact design easily fits on medical equipment carts and is designed for demanding hospital environments.
Powerful, friendly features. Capture via button, foot switch, or contact closure on imaging device; review captured images on monitor; back to live after each capture; white case blends with office environments.
Harness the Power of Digital Images
Save money, time, and space by storing images in digital format
Collaborate on diagnosis and treatment via secure networks
Build digital databases via third-party software that can be searched and accessed from anywhere on the network
Enhance your digital images with powerful third-party software tools that dramatically improve diagnostic accuracy
Offer patients a USB flash drive containing their images
Operation manual here : medicap.pdf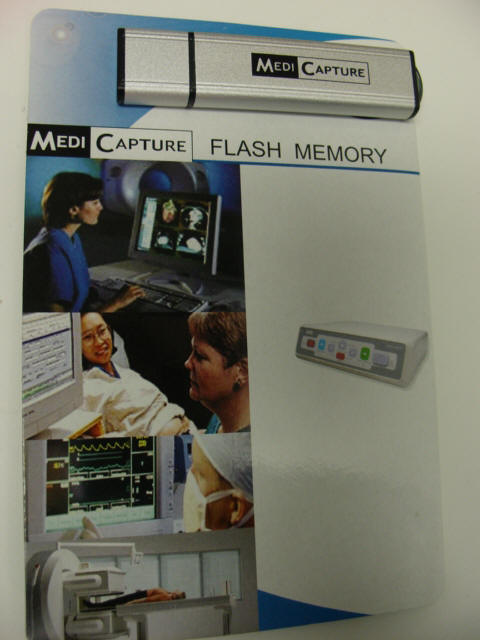 Store images on your usb jumpdrive transfer to pc!