1800-PVS3 video Office Gastroscopy system!
SUPER LOW COST


BRAND NEW!
This system includes all of the following components:

1800-LG2003
PORTABLE VIDEO LIGHT SOURCE PROCESSOR COMBO

1800-PVS91353
LIGHT SOURCE
1800-VME-983
VIDEO GASTROSCOPE! 9.2mm

2.8 ch 103cm length

requires - SONY 20" Medical Monitor LMD19 ( not included )

S/N: 2000536

ALSO INCLUDES:

1
Videoscope Protective Carrying Case'
1 Water Container
1 Leakage Tester
1 Air/Water Valve
1 Suction Valve
2 Biopsy Forceps
2 Cleaning Brushes
All Channel Cleaning Adapter

Bite Blocks

1 25' BNC CABLE




*90 day WARRANTY!

3 LG-200 S/N:

207138

2067146

2067147

3 PVS92135

S/N: 01104

> Can also be purchased with BATTERY Power and LCD Mini Monitor! includes Strap For 100% Portability

( For use in Remote locations with no power availability )

Not for sale to Hospital Systems, Doctors Office use only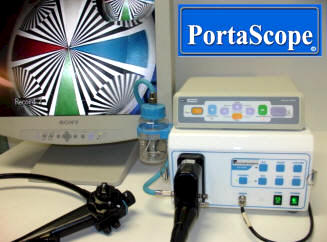 LOW COST Portable Video Gastroscope has high resolution imaging. ( Ideal System for Doctor to replace fiberscopes )
-Super-high Resolution: Videoscopes have a color charged coupled Device (CCD) with 400K MEGA pixels with great image quality.

-Field of View: 140°(Maximum)
-Full screen image.
-LG-200 Simple to use

Ergonomic design with new improved parts and components
provides light handling.

Easily repaired like other familiar OEM scopes.

Allows Full submersion for proper sterilization.

Dependable and Reliable, a Brand Name you can trust.

Improved insertion tube flexibility provides patient comfort.

Leak testing is imperative for the safety of the equipment
and usage.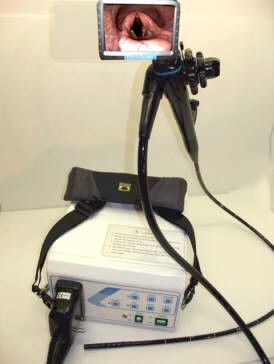 BRAND NEW!
1800- LG200
Excellent Image Reproduction
-With functions of auto color tone adjustment, it can remain the best observational situation at any time.

-With auto light intensity
adjustment and manual light intensity
adjustments, it can enhance contours clearly.

Electronic shutter to ensure the images
have a clear contour at any situations.

Freeze Frame
-four frames frozen for output to Medicap or PC

-Single frame magnified partly
Connect to Computer

ALC Brightness Light Source
-Light Source with low power and high brightness can adjust brightness freely,
Requires PAL monitor
6 Power Supply Voltage 110/220V~240V, Frequency 50Hz~60Hz


This is not FDA approved yet
For Sale in Countries not subject to FDA Approval

SONY LMD 21 NOT INCLUDED SEE PRICE BELOW
This is not FDA approved yet